The Omega Seamaster Aqua Terra is known for its antimagnetic properties, which makes it a reliable timepiece for those who work in environments with high magnetic fields.
This model comes in an array of sizes, colors, and materials. The 38mm model is a more widely accepted timepiece as most watch fans consider it the perfect size. Have a bigger wrist? Omega's got you covered with a 41mm option.
Omega offers it in materials like stainless steel, gold, and titanium, giving buyers a wider selection at the horological table.
It has been compared to other luxury watches such as the Rolex Datejust, and many argue that the Aqua Terra is a better value for money.
History of the Omega Aqua Terra
The Omega Aqua Terra was first introduced in 2002, and it has since become one of the brand's most popular models. It was designed to be a versatile watch that could be worn for casual and formal occasions, and it has lived up to that promise.
The Aqua Terra has undergone several updates and redesigns over the years, but it has always maintained its classic and timeless look.
One of Aqua Terra's unique features is its link to the sea. Its name is derived from Latin, meaning "water" and "earth." This mixture of elements is evident in its design, which comprises a wave-like pattern on the dial and a case that's water and shock-resistant.
The Aqua Terra was also supposed to serve as a more affordable alternative to some of Omega's other popular models, such as the Railmaster and the Speedmaster. Despite its lower price tag, it still features many of the same high-quality materials and craftsmanship Omega has gained a large following for.
Over the years, Omega has continued to update and refine the Aqua Terra. In 2017, the company released a new collection of Aqua Terra watches with revised dials and other design elements. These new models continue to build on the Aqua Terra's legacy as a versatile and reliable timepiece that is perfect for any occasion.
Evolution of the Omega Aqua Terra
The Omega Aqua Terra is available in three iterations as of now:
First Generation Aqua Terra (2002-2008)– watches in this series had a thin case, simple dial with a date window at 3 o'clock, and most used the Co-Axial Caliber 2500 ETA movement (some used a quartz movement). Additionally, they were available in 18K Yellow Gold or stainless steel and came in three sizes (36.2mm, 39.2mm, and 42.2mm).
Second Generation Aqua Terra (2008-2017)– it saw the introduction of a larger case, the famous teak pattern on the dial, and a new in-house movement (COSC-Certified Caliber 8500 movement). Its watches were available in two case sizes; 41.5mm and 38.5mm. Their cases were made from two-tone steel and red gold and steel materials.
Third Generation Aqua Terra (2017-now)– it's pretty much a continuation of its predecessor, except for several exciting upgrades like a date window at 6 o'clock, new movements (Cals. 8900, 8901, and 8800) with the up-to-date antimagnetic technology, and slightly smaller case sizes (38mm and 41mm). Our focus for this article is the 38mm Aqua Terra 150m.
Design and Features
Here's a look at some of the Aqua Terra's most captivating offerings:
Case
The Omega Aqua Terra 150m features a symmetrical 38mm 316L stainless steel case that's water-resistant up to 150 meters, making it suitable for swimming and snorkeling.
316L stainless steel is a superior material of choice since it's highly corrosion-resistant and can withstand high temperatures. It's a steel alloy that contains molybdenum and nickel- components that contribute to its corrosion resistance.
The case's sleek and sophisticated design has smooth lines and a polished finish. It has a matching steel screw-in crown on the side, plus a smooth fixed polished bezel over the domed sapphire crystal and dial.
The crown is larger and well-polished except for the finial that contains Omega's logo. Its tight connection to the case makes it look smaller than it really is. It also offers an excellent grip thanks to the knurled edges that turn effortlessly regardless of the direction.
Bracelet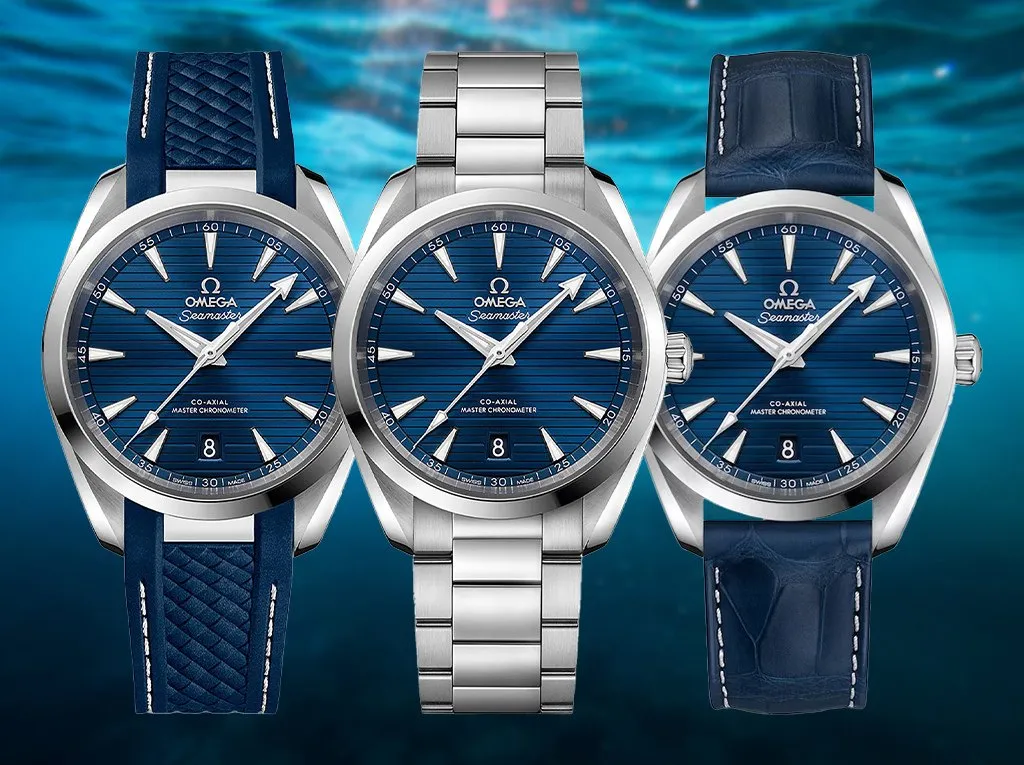 Enter the bracelet, with a commanding yet comfortable wrist presence. It's also made of stainless steel and is available in a three-link or alligator leather strap option.
The steel bracelet boasts a novel design in line with the new Aqua Terra theme. It consists of well-brushed outer links and polished center links that collaborate to create an eye-pleasing contrast. Heck, the smooth texture is just a taste of its majesty.
The beautiful three-link design consists of rounded center links that take an oval form from the side and that climax to a matching steel clasp at their ends.
The bracelet is comfortable to wear and fits snugly on the wrist. However, its minor flaw is the butterfly clasp design which limits adjustment and might hug some wrists a bit too tightly. But hey, that's why there's also a 41mm option available.
Dial
The watch looks intimidatingly serious at first, but thankfully Omega added a casual vibe with the ocean-blue dial, date window at 6 o'clock, and exhibition sapphire caseback.
Displaying time proudly under a scratch-resistant sapphire crystal is a handsome and youthful ocean-blue dial. It has enough confidence to intrigue even the most persistent critic, judging from its teak pattern design and brushed-applied Omega logo below 12 o'clock. The teak pattern design is a nod to the wooden decks of luxury yachts and is a staple of the Omega Aqua Terra line.
There's a significant difference in its design that's worth noting: Pre-2017, the special lines on the teak pattern were vertical. Post-2017, they got a refreshing horizontal upgrade. And that's not all: The Third Generation piece has its date window shifted to 6 o'clock- from the previous 3 o'clock position. The date window takes a nice slim shape and the date is highly legible, taking a Futura font for uniformity with the minute numerals.
The blue Arabic numeral 30-minute marker under 6 o'clock is another nice subtle touch- a transformation from the previous white marker. It serves an extra legibility purpose while complementing the blue dial.
Hands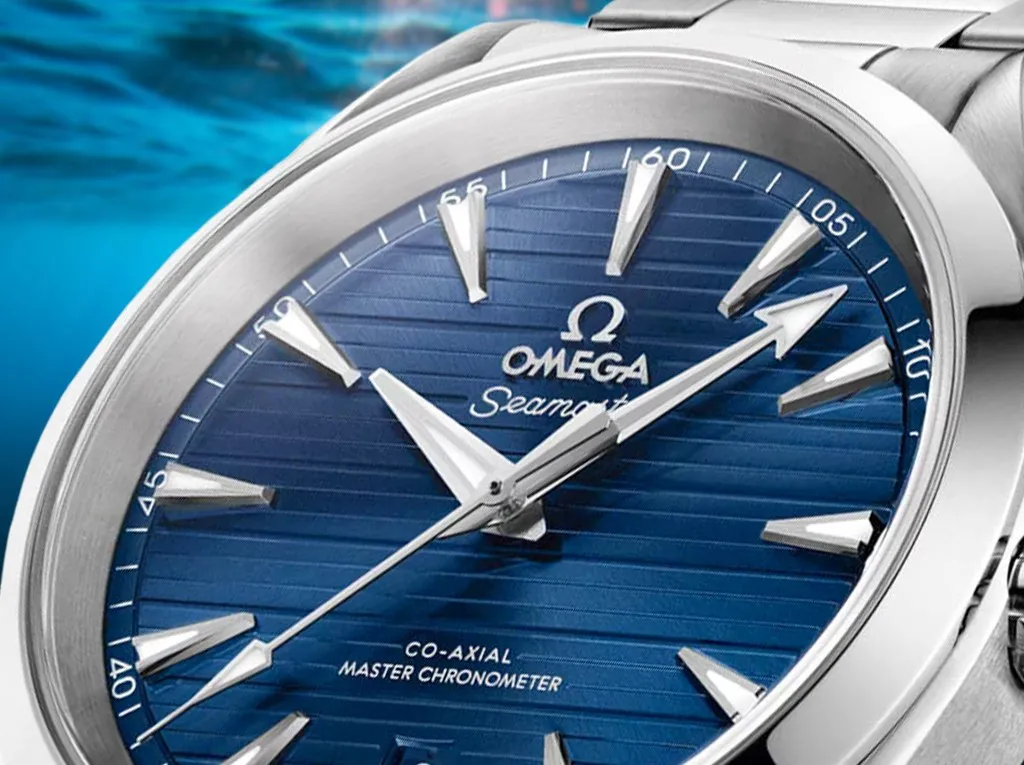 The hands take an arrow design, with the minute and seconds hands having an arrow tip and the hour hand assuming an arrow shape. The hour markers are trapezoidal and tall and have a pleasant shark-teeth design, no doubt to emphasize the Aqua Terra's power and boldness in the sea and on land. They also boast faceted bows with polished sides and vertically brushed top surfaces.
The rhodium-plated hands and hour markers are white Super-LumiNova lume-applied, making it easy to read the time in low-light conditions. Super-LumiNova may not be the brightest luminescent material, but it offers a long-lasting glow, promising reliable lighting for years since it's charged by the sun or any other artificial light. It's mixed with a special binder before it's applied to the watch's hands and dial.
Movement
The Seamaster Aqua Terra 150m 38mm features Omega's automatic in-house Co-Axial Master Chronometer Caliber 8800 movement, which is accurate, reliable, and resistant to magnetic fields up to 15,000 gauss.
Granted, it's all-powerful and breathes new life into the iconic piece, but that isn't without a drawback: It's bigger than that of the previous generation. Hence it has made the watch's case slightly thicker too (there goes the classic cuff slider). However, its benefits are more than its misses.
The Caliber 8800 is an 11.5 ligne movement, is 4.60mm tall and has a quickset date function for quick calendar adjustments. It also has a self-winding bi-directional rotor and a single barrel that grants a power reserve of 55 hours- which is pretty short compared to the 41mm's 8900/8901's 60-hour power reserve but fits the smaller-size Aqua Terra 38mm.
The movement has 35 jewels, beats at 25,200vph, and has a free-sprung balance and Omega's 'Si 14' silicon balance spring. The balance spring plays a significant role in its unmatched resistance to environmental interference and shock.
Additionally, the Caliber 8800 is certified by METAS, ensuring that it meets the highest accuracy, performance, and magnetic resistance standards. It's a testament to Omega's commitment to innovation and excellence in watchmaking.
The Aqua Terra 38mm's display caseback allows users to view the movement's trademark red printing, rhodium-plated finish, and Geneva waves in Arabesque. It's not as colorful as the 41mm's movement, which features Sedna™ Gold and other intricate detailing, but it's equally powerful and delivers a quality result.
Performance and Accuracy
The Omega Aqua Terra watch is water-resistant to 150 meters and has chronometer-certified movement, which guarantees accurate timekeeping. Its Co-Axial escapement has less friction, reducing the need for lubrication and servicing.
Compared to the Swiss lever escapement, the Co-Axial escapement has a more effective structure of three pallets, leading to greater mechanical efficiency.
The watch is certified by METAS for maximum accuracy, which is a higher standard than the usual COSC certification. However, the movement undergoes COSC certification for precision before being tested by METAS.
The watch is then sent to METAS for testing for at least 10 days. It's expected to pass several tests to earn the coveted certification, such as:
Isochronism
Magnetism resistance at various exposure degrees
Accuracy deviations
Water resistance
Function precision during extreme magnetism
Power reserve
Chronometric day-to-day precision
The Omega Aqua Terra's METAS certification requires a precision range of 0/+5 seconds per day, significantly more accurate than COSC's range of -4/+6 seconds per day. Its standout feature is its resistance to magnetic fields of up to 15,000 gauss, ideal for those working in high-magnetic environments.
The watch's date function is displayed at 6 o'clock and can be easily adjusted using the crown, while luminescent hands and markers make it easy to read in low-light conditions.
Overall, the Aqua Terra is a reliable and accurate timepiece suitable for various settings and a popular choice among professionals who require precision and reliability.
Price and Value
The Omega Aqua Terra is a luxury watch that comes with a reasonable price tag to match. The estimated current retail (MSRP) price of an Omega Aqua Terra watch ranges from $2,719 to S$12,469, as per WatchCharts.
Many models hover near the S$7,959 mark, with those with jewels, complications, and special features typically coming at a higher price.
While the price may seem steep, the Aqua Terra's high-quality construction and impressive features make it a worthwhile investment.
It's worth noting that the price may vary depending on the watch's age, condition, dealer, and market. It's recommended to research before purchasing to get the most out of your investment.
The Competitive Landscape
Omega Aqua Terra faces stiff competition from other luxury watches that offer similarly impressive features and styles, like the Rolex Datejust, TAG Heuer Aquaracer, and Longines HydroConquest.
The Datejust is among the Rolex watches that has been around for decades and is known for its timeless design and durability. It has a smooth or fluted bezel and is water-resistant with antimagnetic qualities, making it a strong contender against the Aqua Terra.The Datejust ranges from S$4,112 to S$18,240,
The Aquaracer is a sporty and stylish watch that is also water-resistant and has a similar price point to the Aqua Terra. It has a more modern design and is popular among younger watch enthusiasts. What's more, it has the bonus of a faceted unidirectional rotating bezel with a good grip, even with gloves on. Aquaracer retails for between S$2,653 and S$4,112
As for the Longines HydroConquest, it has a similar water-resistant depth and is also antimagnetic. Plus, it has some remarkable combinations and size options that make it one of the closest competitors to the Omega Aqua Terra 150m. It also has a unidirectional rotating bezel. HydroConquest has a retail price of between S$1,592 and S$2,388, according to WatchCharts.
Granted, the competitors have a solid reputation, but do they have what it takes to bring the Aqua Terra down? Let's investigate:
| Watch Model | Water Resistance | Case Size | Anti-Magnetism | Retail Price |
| --- | --- | --- | --- | --- |
| Rolex Oyster Perpetual Datejust | 100m | 31mm, 36mm, and 41mm | Up to 1,000 gauss, hairspring crafted from an alloy of zirconium and niobium | S$4,112-S$18,240 |
| TAG Heuer Aquaracer | 200m, 300m, or 1000m | 30mm, 36mm, and 40mm | Antimagnetic, lightweight carbon-composite hairspring | S$2,653-S$4,112 |
| Longines HydroConquest | 300m | 41mm and 43mm | Antimagnetic silicon balance spring | S$1,592-S$2,388 |
Source: Watch Charts (As of April 2023)
From the table, we can see that while the Rolex Datejust has impressive water resistance and anti-magnetic properties, it is significantly more expensive compared to the TAG Heuer Aquaracer and Longines HydroConquest.
On the other hand, the Aquaracer and HydroConquest offer excellent value for their price, with impressive water resistance and durable features.
Ultimately, the choice of which watch to choose will depend on personal preferences in terms of design, features, and budget.
FAQs
Here are some common questions that people have about the Omega Aqua Terra:
1. Is the Omega Aqua Terra worth buying?
The Omega Aqua Terra is a worthwhile buy. It's versatile, durable, antimagnetic, and most importantly, it has a high-precision in-house movement. It's crafted from premium materials, think sapphire crystal, gold, and steel. Moreover, all its parts are assembled by hand for maximum precision and it boasts innovative designs by skilled artisans and engineers.
It also comes in various size and dial color options to appeal to a wider audience. Finally, it's easy on the wrist since it's impressively lightweight and has a smooth bracelet and guarantees a good price on the resale market if sold in top condition.
2. Does Omega Aqua Terra hold value?
Yes, it does, surprisingly well at that. Omega's tendency to increase its watch's prices ensures wearers get good value for their money while banking on a worthy investment. Usually, it'll retain at least 70-85 percent of its MSRP if bought new. We suggest purchasing a pre-owned piece or buying it from an authorized dealer to get the most out of the value retention deal. However, you need to take care of it properly for it to hold its value (and possibly appreciate with time!).
Omega advises that you wash your steel timepiece with soapy tap water and a toothbrush frequently, preferably after every 2-3 years. Afterward, wipe it with a clean cloth and let it dry before wearing it. You can also choose to skip the hassle and take it to an authorized dealer for proper care.
3. Who wears an Omega Aqua Terra?
Anyone with a taste for a versatile, luxurious modern sports timepiece. Omega Aqua Terras are designed to be functional in and out of the sea while keeping accurate time and being corrosion-resistant. Their steel case and blue dial make them suitable for everyday wear while maintaining the aesthetic appeal and functionality Omega timepieces are known for.
Final Word
The Omega Aqua Terra is a versatile watch that combines elegant design with impressive technical features. It has taken the watch world by storm with its innovative design and sporty aesthetic. It's clear from the 38mm's overall design and impressive elegance that we should expect more pleasant surprises soon.
Key Takeaways
One of the standout features of the Aqua Terra is its proprietary antimagnetic technology, which protects the watch from the adverse effects of magnetic fields.
The Omega Aqua Terra is a worthwhile investment since it retains its value with time and can even appreciate in worth with time if properly maintained.
The Aqua Terra is designed to be functional in and out of the sea. This is emphasized in its unique name and durable build.
Looking to buy or sell your luxury watches? Watch Book is your one-stop destination for trading Rolex, Patek Philippe, Tissot, Sinn, Zenith, and other luxury timepieces. Find your next watch today or list your item for free!