Omega's Speedmaster Professional Moonwatch has long been an iconic piece for a reason: It was the first timepiece on the moon. The NASA-approved watch (Omega Speedmaster Professional Moonwatch ref. ST 105.012) was first worn by astronaut Buzz Aldrin in 1969 during the Apollo 11 crew's expedition to the moon.
It met all the expectations by passing all the torture tests done to it. Since then, Omega has been working to improve its appearance and performance- albeit subtly- to meet the modern watch enthusiast's demanding expectations.
The newest generation of the Moonwatch collection introduced in 2021, the 01.002, showcases all these necessary changes. We'll be looking at the Omega Speedmaster Moonwatch ref. 310.30.42.50.01.002 in this review and why it's such a big deal in the watch community. Enough suspense. Let's do this.
The Case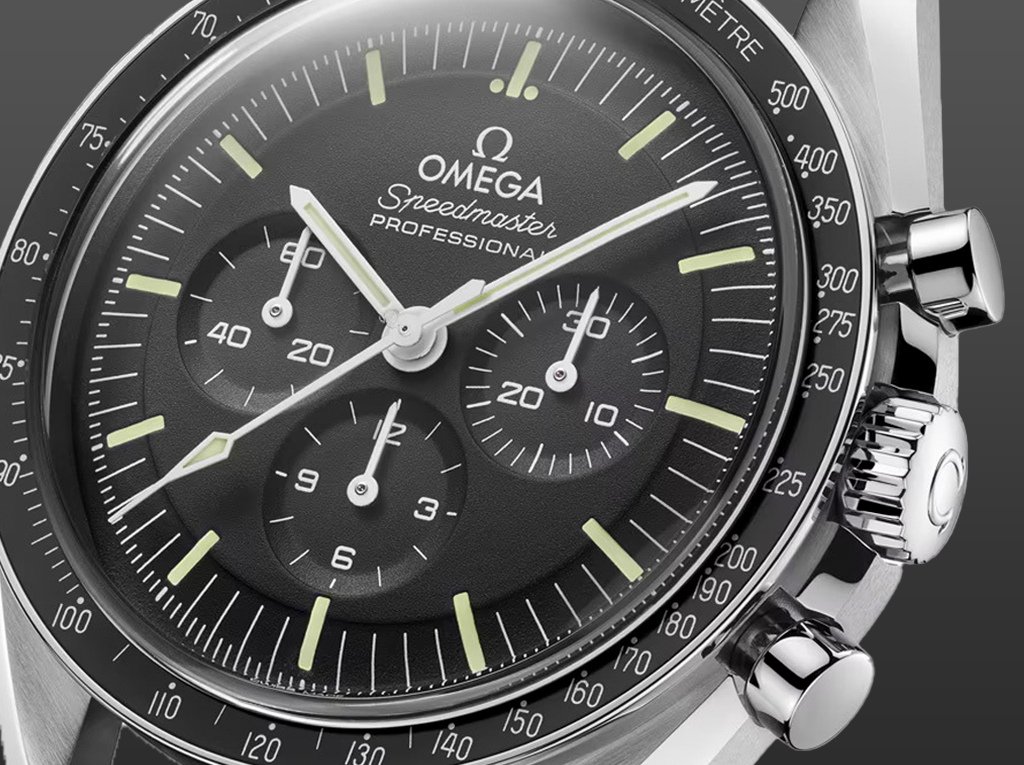 Coming in with an impressive 42mm asymmetrical stainless steel case, the new Speedmaster Moonwatch has played it safe in the improvement area. The previous model had a case of the same size. However, some notable differences make it stand out.
First of all, its pushers are more recessed, sitting snugly in their guards. Also, it's thinner (not super thin but hey, it's worth it)- 13.2mm for the Hesalite model and 13.2mm for the Sapphire Sandwich model.
The Hesalite version is domed and has a Hesalite crystal over the dial and a solid caseback. The model worn on the moon was of its variety.
The Sapphire Sandwich piece has a scratch-proof, anti-reflective sapphire crystal over the dial and on the case back (exhibition sapphire caseback)
Lastly, the new model has a reshaped case with delicately angled lugs with shorter tips and a thinner bevel.
The case is smooth and well-polished with a welcome new finish, a testament to Omega's perfectionist nature. It has a steel non-screw-down crown that gracefully takes its place between the pushers.
As for the caseback, it double beveled and depends on the model:
The Hesalite pick of this latest iteration has the trademark seahorse at the center and is more detailed with a FIRST WATCH WORN ON THE MOON, 'Professional Moonwatch,' 'Co-Axial Master Chronometer,' and FLIGHT-QUALIFIED BY NASA IN 1965 FOR ALL MANNED SPACE MISSIONS printings.
The Sapphire Sandwich version is less cluttered, with a FIRST WATCH WORN ON THE MOON and CO-AXIAL MASTER CHRONOMETER engravings only.
The case maintains its 50m water resistance, making it ideal for swimming and shallow water action.
The Dial
The Speedmaster Moonwatch ref. 310.30.42.50.01.002 has the type of dial that- dare we say- you can admire even when you're not checking the time. It's clean and tidy, with a rich balance of powerful colors and incredible detail.
It also has a lovely vintage design, with it adapting the 'stepped dial' look of the early Speedmaster models where the subdials are caved in. Speaking of which, the sub dials keep their eye-catching format, carefully placed in the 3,6 and 9 o'clock positions.
There are some eye-catching tweaks that give it an ultra-modern appearance:
The polished Omega logo is now applied and not painted.
The 'Speedmaster' wording has been enlarged to meet the width of the 'Professional' wording.
The Omega logo's spacing has been increased for better legibility.
The counterweight of the timing seconds hand has a teardrop shape, giving it a softer and more eye-friendly feel
The number of hashes between the minute markers has been cut in half from 4 to 2, contributing to the dial's cleaner appearance compared to the previous model's
Its index hour markers, dots between the 12 o'clock index, and central hands have a SuperLumi-Nova filling, giving it a mellow but noticeable green glow in the dark.
The Movement
The Omega Speedmaster Moonwatch ref. 310.30.42.50.01.002 is a robust timepiece that demands an equally capable movement.
Omega chose the relatively-new METAS-approved manual-wound Co-Axial Caliber 3861 movement for the task and it hasn't disappointed so far. It has a chronograph function, a horizontal clutch, and displays Hours, Minutes, and Small Seconds.
The Master Chronometer-Certified anti magnetic movement is more reliable than the outgoing Omega Calibre 1861 movement, boasting a 6.87mm thickness and 37mm diameter and some wow-inspiring enhancements. Plus, it's appeared in several other Omega models:
It boasts 26 jewels (from the previous 18) and a 50-hour power reserve (an improvement from the last 48 hours)- enough fuel to grant it a 21,600vph frequency and 0/+5 seconds per day accuracy.
It also has a silicon hairspring-giving it an impressive magnetic resistance of up to 15,000 gauss, a metal chronograph break (from the previous Delrin break), Nivachoc shock absorbers, as well as a co-axial escapement which is a welcome improvement from the last Swiss lever escapement.
Its most exciting new feature has to be the hacking seconds mechanism that causes it to stop once the crown is pulled out, allowing more accurate time adjustment. And that's not all. If you're into looks as much as functionality, well, you're in for a treat.
Gold-colored chronograph wheels, a rhodium-plated beauty with Geneva stripes on the bridges, polished screw and jewel countersinks, polished screws with beveled slots, a circular-grained main plate…that's the new Co-Axial movement.
And it only gets better if you get the new Sapphire Sandwich model, as you get to view the movement's glory in detail while it's in action.
The Bezel
The Omega Professional Master Chronometer watch's bezel isn't left out either. Sure, it's steel and retains the black anodized aluminum insert of the previous models, but it brings some spice to its design in several ways:
It has a dot diagonal to 70
It has a dot over 90 (DON), the famous term used to refer to the position of the dot near 90 on the black, well-polished tachymeter scale.
The graduations and print on the scale are thinner and finer, complementing the French-printed 'TACHYMETRE' wording perfectly.
The non-functional yet significant DON and dot diagonal to 70 additions are sure to please avid watch collectors with a thing for vintage Speedies. The additions are a respectful nod to the layout of the 1960s' Speedmasters.
Overall, the bezel amplifies the dial's black beauty and adds careful contrast with its white tachymeter prints. It's super legible, a feature that increases the watch's popularity among die-hard watch fans and novice watch collectors. Plus, its minimal design gives it a professional look that's already in the name.
The Bracelet
The Omega Speedmaster Moonwatch Professional watch's bracelet merges elegance with comfort. Its bracelets and straps vary depending on the watch model.
The Hesalite option has a stainless steel brushed bracelet and black nylon fabric strap
The sapphire model has a steel bracelet and black leather strap
Both options' bracelets are thinner and lighter. Moreover, they have a stylish five-arched-links-per-row design, with the links being more rounded and smaller and adapting screws. This is a commendable shift from the pin and tube set-up of the previous generation.
Note: There's a significant difference between the Hesalite and sapphire crystal version bracelets: The Hesalite option has a fully brushed finish. Meanwhile, the Sapphire Sandwich sports well-polished in-between links.
The bracelets are beautifully joined by a sophisticated steel clasp. The new-improved clasp has a groove motif and a well-engraved Omega insignia. It also has oval steel pushers that make fastening and unfastening the bracelet a breeze.
As for the strap options, they're stitched on the sides for maximum durability and have a folding clasp. They give the Omega Speedmaster Professional a nice sporty look, and they're smooth and itch-free around the wrist.
The Competitive Landscape
There's a demand for sports chronographs with a strong personality and rich history, and our watch for this review takes the lead with a retail price of between S$8,504 and S$10,089, depending on the model and materials.
Other watches like the Bulova Lunar Pilot and Seiko Sportura are also stepping forward to prove their value, competing tirelessly for the coveted spot in the hearts of watch enthusiasts. They have equally impressive features and boast even better ones at more affordable prices. Let's go closer to the scene for more details.
1. Bulova Lunar Pilot Watch- Stainless Steel, Black Dial Ref. 96B258
About
The Bulova Lunar Pilot has a larger case, a date window between 4 and 5 o'clock, more precise timekeeping thanks to its quartz movement, and a sportier look. It's also pocket-friendlier with a retail price of S$857.
2. Seiko Sportura- Stainless Steel, Black Dial Ref. SPC137P1
About
This piece boasts a higher water resistance rating, a larger case, and more convenient solar-powered movement. Additionally, it's more affordable than the Omega Speedmaster, with a retail price of S$407.
Comparison Table
The following table highlights the primary features of the options above:
Model

Key Features

Bulova Lunar Pilot Watch Ref. 96B258

A screw-down crown

A quartz movement

A date window between 4 and 5 o'clock

Seiko Sportura Ref. SPC137P1

Water resistance to 100m

A solar-powered quartz movement

A large date window below 12 o'clock
Why You Should Invest?
It's in high demand among watch enthusiasts since it's inspired by the fourth generation of the Moonwatch. Additionally, Omega is continuously increasing its price on the (secondhand) market, guaranteeing you a good profit for your investment.
Money aside, it's a handsome watch to have around your wrist. It's crafted from quality materials like sapphire crystal and stainless steel, boosting its durability as well. Throw in the latest movement and improvements factors and you have a robust, modern sports watch with enough personality and sex appeal to last you a lifetime.
Pricing and Availability
The Omega Speedmaster Professional Moonwatch's price ranges from S$8,504 and S$10,089 depending on the model and materials used, according to WatchCharts.
The Sapphire Sandwich steel version with a black dial and steel bracelet (ref. 310.30.42.50.01.002) has a retail price of S$10,089.
The Sapphire Sandwich steel version with a black dial and black leather strap on folding clasp (ref. 310.32.42.50.01.002) has a retail price of S$9,656.
The Hesalite steel version with a black dial and steel bracelet (ref. 310.30.42.50.01.001) has a retail price of S$8,935.
The Hesalite steel version with a black dial and black nylon fabric strap on folding clasp (ref. 310.32.42.50.01.001) has a retail price of S$8,504.
Both models were first available in every Omega boutique in 2021, with the Hesalite options appearing first and the sapphire version making a grand entry a little later that year. More information here.
FAQs
1. Is a Speedmaster Moonwatch worth it?
A Speedmaster Moonwatch is worth it. It presents the best aesthetics from previous iterations, coupled with a high-precision manual-wound movement with a master chronometer certification and the durability factor. It can last for at least ten years before requiring servicing from a professional Omega watchmaker.
2. Is Omega Moonwatch a good investment?
Omega Moonwatch is a good investment. It has all the qualities to get you a bang for your buck, from being in good books with most watch collectors to providing modern watchmaking appeal, boosted by its high-precision movement that ensures accurate timekeeping for years.
3. Will Omega Speedmaster Moonwatch go up in value?
The Omega Speedmaster Moonwatch Master Chronometer may go up in value, as Omega tends to increase the price of its timepieces. But even without that, it's a highly desirable vintage-style piece among most watch connoisseurs and is produced in limited quantities. 
4. Why is the Moonwatch so popular?
The Moonwatch is popular because it was the first watch on the moon (hence the name), worn on moon missions. There was no better watch for the task as it passed all of NASA's torture tests and proved supreme on the lunar surface by telling accurate time despite the moon's conditions.
Final Word
The Omega Speedmaster Moonwatch is an iconic watch with timeless appeal and unmatched functionality. It's never easy updating a watch with a cult-like following, but Omega has nailed it with this piece.
From an improved case and more legible and stylish aluminum bezel to a thinner, well-polished new bracelet and reliable new movement, this nice watch checks all the boxes of a modern chronograph while maintaining the vintage charm of Aldrin's ref. ST 105.012.
Key Takeaways
The Omega Speedmaster Moon watch is available in two versions: The Hesalite option and Sapphire Sandwich choice.
The most notable features of the latest Omega Speedmaster Professional are a 42mm asymmetrical steel case, a DON bezel, and a new manual-wound Co-Axial Caliber 3861 movement.
The Omega Speedmaster Moonwatch is a great watch and a good investment as it can fetch a good profit and is extra durable with the bonus of being made from high-quality materials.
Looking to buy or sell your luxury watches? Watch Book is your one-stop destination for trading Rolex, Patek Philippe, Tissot, Sinn, Zenith, and other luxury timepieces. Find your next watch today or list your item for free!